2023 NATO SMERWG
Sonistics Industry Reception
Wednesday 28 June
Venice
Delegates have the opportunity to win this stunning glass dolphin, hand-crafted by the Original Murano Glass Company in Venice.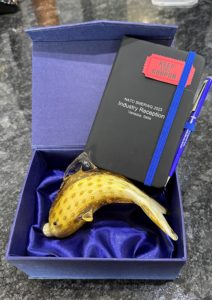 NATO Submarine Escape and Rescue Working Group



The NATO Submarine Escape and Rescue Working Group (SMERWG) encourages the development and implementation of military standardisation within the global Submarine Escape, Rescue and Abandonment (SMERAS) community. This includes, but is not limited to, techniques and training methods, presenting and recommending new equipment and communications related to submarine emergency situations.
NATO SMERWG is held over 4 or 5 days and is open to pfp and other non-NATO submarine operating nations wishing to develop or upgrade a SMERAS capability. Around 34 nations participate, sending 120 delegates who share information and discuss their SMERAS activities. Sub-committees, the TECH Panel, OPS Panel and Medical Panel, meet at least once throughout the year and report back to SMERWG.
The SMERWG brings together submarine operating nations who are looking to develop their SMERAS capability and Industry can assist with this development.
In 2005 Sonistics identified that there was a need for industry to be available at SMERWG to assist with technical issues which were being raised in conference.  As a policy meeting it was inappropriate for industry to attend and access was therefore achieved by an industry-hosted reception. This event is now an established part of SMERWG and benefits industry and delegates in equal measure.
SMERWG Galleries:
2005 – Brussels
2006 – Istanbul
2007 – Garmisch-Partenkirchen
2008 – Garmisch-Partenkirchen
2009 – Cape Town
2010 – Amsterdam
2011 – Amsterdam
2012 – Amsterdam
2013 – Amsterdam
2014 – Amsterdam
2015 – Garmisch-Partenkirchen
2016 – Portsmouth, UK
2017 – Amsterdam
2018 – Amstedam
2019 – Crete, Greece
2020 – Bergen, Norway
2022 – Amsterdam