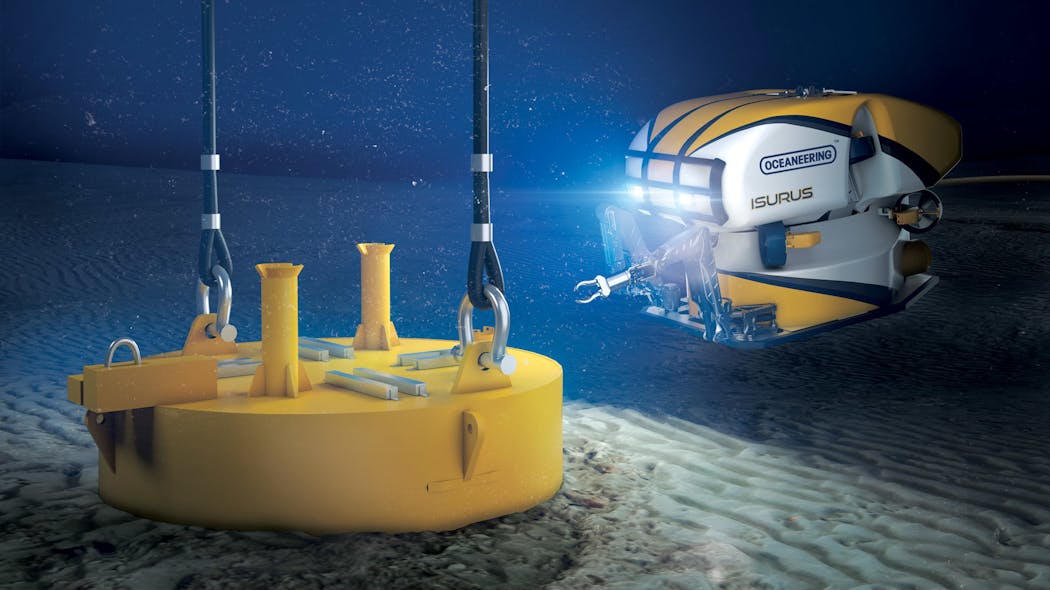 At this year's Subsea Tieback event, longtime exhibitor Oceaneering showcased its Isurus offshore high-speed ROV. Developed from Oceaneering's Magnum Plus ROV system, the Isurus is a work class system optimizing hydrodynamic form factor and hydraulic propulsion to operate in challenging currents.
Offshore spoke with Nick Rouge, Oceaneering's subsea robotics product manager, about why and how the company developed the technology, current capabilities and applications, and plans for further development.
Before the development of Isurus and its release in 2019, Oceaneering identified key industry needs to create the technology. Rouge said the need for hydrodynamic ROVs drove the creation of the Isurus.
"What we found is that you needed a work class ROV with manipulators and the ability to operate tooling. Historically, work class ROVs have not been made to be hydrodynamic," he explained. "We also found that the move to doing shallow-water work and the expansion of renewables projects require that hydrodynamic factor. So, if you didn't have this vehicle, you would need a work class vehicle that you couldn't use all the time, and you would also need a high-speed ROV, causing you to have twice as much equipment to switch between."
Building from the Magnum Plus ROV's existing hydraulics and propulsion packages, Oceaneering sought to create something in keeping with identified industry needs.
"With our Isurus, we went ahead and gave it that hydrodynamic form factor," Rouge said. "That hydrodynamic form factor means it can go almost twice as fast forward and 60% faster side to side, meaning it can hold position in higher currents."
The form and speed of the ROV were equally as important as the tools it is equipped with, according to Rouge.
"One of the other challenges about working in shallow water with high currents is often high turbidity—there's a lot of material in the water," he added. "We're talking less than a meter of visibility. So, we've adapted high-resolution sonars that make a visual image in front of you of the object that you're going to interface with."

Looking ahead
The work class ROV has worked in diverse environments including Taiwan, France, Belgium, India and the UK, and it has a wide range of applications. With its vehicle control, station keeping and navigation, Isurus assists with pre- and post-lay capable surveys. Isurus can operate up to 5 knots and lateral speeds of more than 2 knots, with a vertical speed of 1.3 knots.
There are currently six working Isurus ROVs, with a seventh being installed on contract and an eighth in build. Altogether, Isurus has 15,200 dive hours at 98.5% uptime.
When asked about plans to further develop Isurus, Rouge explained it was designed to have a fast forward approach and is fastest moving forward, but some customers want it to be faster laterally.
"We have a new design that we're ready to put to work that's more evenly balanced in its speed," he said. "It will be capable of a little less forward speed but will have significant improvements in the lateral speed."
He also elaborated on long-term goals for the technology, stating, "We're looking at electrifying our ROVs—going away from a hydraulic power system to an electric propulsion. That's important to the renewables and oil and gas companies who really care about energy transition. It's more efficient and more powerful."