JFD completes timed mobilisation of the NSRS during Golden Arrow exercise
JFD has completed a timed mobilisation of the NATO Submarine Rescue System (NSRS). This was undertaken during the Golden Arrow Submarine Rescue exercise held in March 2022.
From the Port of Glasgow, King George V (KGV) dock and with support from the NSRS authority, the NSRS Rescue System was embarked onto SD Northern River, followed by at-sea exercises in the vicinity of the Isle of Arran in Scotland.
In the event of a Distressed Submarine (DISSUB), it is vital that the NSRS can respond and mobilise to a Vessel of Opportunity (VOO) urgently to allow the rescue system to transit to the datum point as soon as possible. This exercise provided practice and training for the NSRS Authority, JFD and its suppliers, so that should a real-life incident occur, the capability is prepared.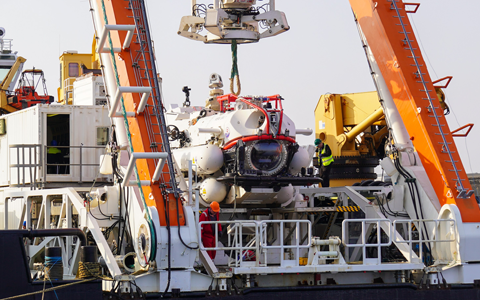 Gary Lindhofer, Head of Defence – Services, JFD, said:

"Ensuring the NSRS system can mobilise from the UK is critical to support the NATO Participant Nations – the UK, Norway and France. Exercise Golden Arrow is the UK exercise which involves mobilisation of the NSRS Rescue System to a designated vessel to provided assurance of this capability.

The continuous timed mobilisation enables the Authority, JFD and its supply chain to realistically conduct the critical installation of the system onto the vessel, providing significant training benefit to the team. From a management perspective, it allowed the team to implement its fatigue management processes to keep people safe.

At-sea operations provided valuable training to the Authority and JFD operators, covering Launch and Recovery, Submarine Rescue Vehicle (SRV) operations with target, and night-time operations."
The Embarkation Phase, in which the rescue equipment is installed onto the vessel, was timed by the Authority and a total of 18 hours was worked continually. The purpose of such a phase is to safely simulate a real-life event in which sustained activity is required to mobilise the system to the vessel as soon as possible.
Across the mobilisation, over 60 people were involved in the Embarkation Phase, working to install the NSRS safely and efficiently onto the vessel. Coordinating an exercise of this scale requires a high level of experience, system understanding and technical skills.
Multiple Launch and Recovery cycles were conducted during the at-sea phase including capability demonstration of the Submarine Rescue Vehicle (SRV) dives to the Low Weight Target (LWT) set at 20 Degrees angle, to represent a DISSUB laying at an angle on the seabed. In addition, night-time operations were successfully completed so JFD operators could experience working in low visibility conditions where lights are required, providing additional training benefit.
Our expertise and capabilities within the complex and unique domain of Submarine Rescue are gained over 40 years and further strengthened through the completion of these exercises. This is why JFD is trusted to deliver assured submarine rescue readiness proven to 98% and support to 33 navies and over 80 countries worldwide.