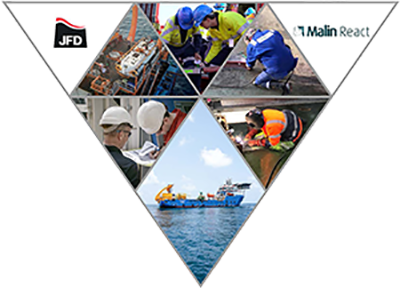 JFD, the world leading underwater capability provider serving the commercial and defence diving markets and part of James Fisher and Sons plc, will combine expertise and experience with Malin React, the world class provider of turn-key ship mobilisation solutions. The teaming agreement will ensure rapid vessel mobilisation of JFD's submarine rescue assets to facilitate the fastest possible deployment anywhere in the world, minimising the Time to First Rescue (TTFR) and optimising the chances of a successful rescue.
In the event of a submarine emergency, and assuming no dedicated rescue vessels are available, a fly-away submarine rescue capability will be deployed and mobilised to a nearby Vessel of Opportunity (VOO) which will then conduct a rescue operation for the distressed submarine (DISSUB). Critical to the success of rescue operations is keeping the TTFR to an absolute minimum, ensuring that the rescue capability is always available and ready to deploy as quickly as possible.
To successfully and quickly deploy a JFD submarine rescue capability to the site of the DISSUB within the shortest possible time frame, a vital component in the rescue evolution is ensuring the fast and efficient installation of the rescue assets onto a suitable VOO. This complex engineering challenge will more than likely be done in very short timescales and demand the efforts of many multi skilled engineers to ensure the rescue equipment can seamlessly be embarked onto a vessel without any time delays. The teaming agreement with Malin React will ensure there is a dedicated and experienced global pool of engineers on standby ready to support both the mobilisation and embarkation phases.
Richard Devlin, Head of Operations, EMEA and Global Submarine Rescue at JFD said:
"In the event of an incident, the fast and effective mobilisation of a submarine rescue system is a vital component of the rescue operation, and having the ability to quickly reach a distressed submarine anywhere in the world whilst maintaining optimum operational capability is critical to protecting human life at sea. Time is of the essence, and JFD's submarine rescue systems are specifically designed to get to the DISSUB in the shortest time frame possible. By having robust arrangements in place for selecting the most suitable vessel and installing the equipment as quickly and safely as possible, we can ensure that we are taking every available measure to reach submariners in time and bring them back to safety.

"In practical terms, effective mobilisations can be best assured by putting in place practiced, coherent and properly resourced plans which consider all variables. This includes the scope of the engineering task, deck preparatory works, the approvals process with the nominated classification societies and the required levels of information exchange with our clients, all of which are crucial to decreasing TTFR and hence increasing the chances of a successful rescue operation."
Graham Tait, Managing Director for Malin React said:
"Through this agreement, Malin React and JFD are able to combine naval architecture, engineering and installation resources and processes, creating a mobilisation team with the broad experience and reach to provide global support to JFD and the world's navies.

"By combining these capabilities with those of Malin React's extensive Oil and Gas operations, we can support JFD ensuring readiness at immediate notice, which is essential for overcoming the challenges associated with deploying systems to support a rescue."
JFD provides fast, safe and reliable subsea rescue services, solutions products, engineering services and training to 80 countries and 33 of the world's navies including the Royal Navy, Indian, Australian, Singapore, and Korean Navies, as well as providing the NATO Submarine Rescue System.  This includes four full fly-away Submarine Rescue Systems to three of the world's leading navies.
Malin React, one of seven brands which form Malin Marine Limited, regularly undertakes ship-based equipment installations for international oil and gas customers, taking responsibility for everything from logistics to sea fastenings, class approvals to welding and load testing.