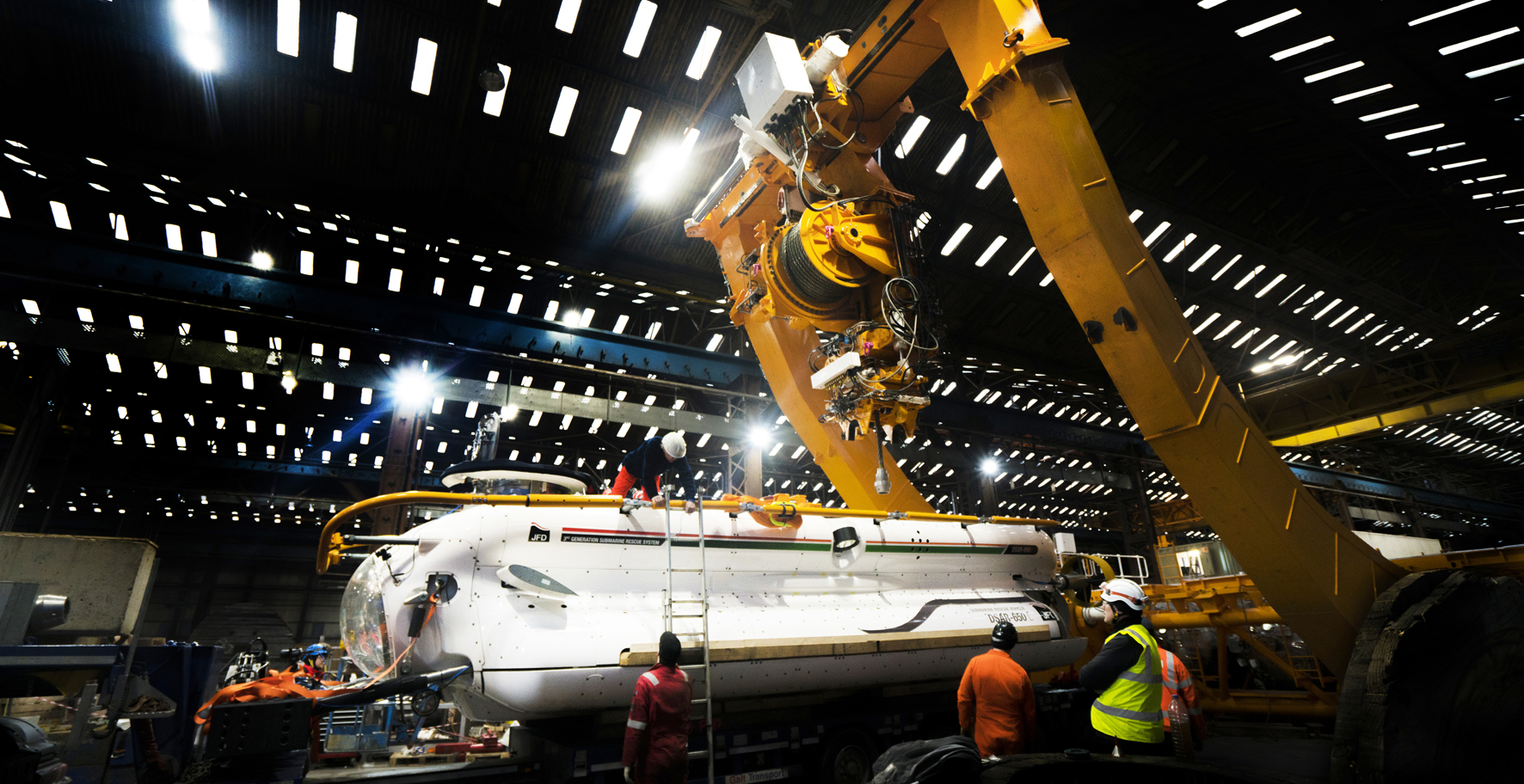 JFD, the world leading underwater capability provider serving the commercial and defence markets, and part of James Fisher and Sons plc, has successfully completed the build of the first of its two new innovative 3rd Generation submarine rescue systems, due to be delivered to the Indian Navy in March 2018.
The completion of the build will be commemorated by a ceremony hosted by JFD and attended by senior representatives from the Indian Navy, due to take place at JFD's Renfrew manufacturing facility on 23 February 2018. The ceremony will mark a world-first in the final integration of a complete submarine rescue system within a single manufacturing facility, enabling engineers to test in-situ how each component part will integrate in order to deliver the optimum submarine rescue capability.
Simon Everest, Head of the Department for International Trade's Defence and Security Organisation hailed the completion, saying:
"I am pleased that JFD have reached this important milestone and that the programme will continue to benefit the company and the Indian Navy.  India is an important strategic partner and we encourage further cooperation between the Indian armed forces and innovative UK companies".
JFD's 3rd Generation rescue system incorporates an innovative new system design and tightly integrated components to ensure time-to-first-rescue (TTFR) – the time measured between system deployment and commencement of the rescue – is minimised.  In the event of an accident, this maximises the chances of a successful rescue, which is crucial in protecting the lives of submariners.
Under the £193m contract, JFD is providing two complete fly-away submarine rescue systems to the Indian Navy, including Deep Search and Rescue Vehicles (DSRV), Launch and Recovery Systems (LARS) equipment, Transfer Under Pressure (TUP) systems, and all logistics and support equipment required to operate the service. The equipment will be designed, manufactured, integrated and tested by JFD prior to shipping in March 2018 for final commissioning and trials. The full, certified systems are due to delivered to the Indian Navy in June 2018.
Giovanni Corbetta, Managing Director, JFD said:
"Speed and reliability is key in conducting safe and effective submarine rescue operations to ensure that the submariners are reached as quickly as possible to minimise the risk the situation poses to their lives. The reliability with which any flyaway submarine rescue system can be deployed must be carefully balanced with its effectiveness and capability once onsite. It is essential that the system has the capability to conduct safe rescue operations in any given circumstance and under a widely variable conditions including sea states and depths.
"Protecting the lives of submariners is the foundation of our business.  That is why we have invested significantly in the development of our 3rd generation system, using our deep and unrivalled knowledge of submarine rescue to conduct an extensive research and development programme, developed against a set of generic, but well-considered and representative requirements. The 3rd generation system represents a step-change in real world submarine rescue capability, and has been specifically designed to provide a comprehensive and highly capable submarine rescue service whilst ensuring the system is as quick and simple to mobilise as possible to maximise the chances of a successful rescue."
All of the technologies utilised in JFD's 3rd Generation system are proven in service. Whilst innovative in arrangement, the methodology is built on tried and tested approaches and therefore requires little shift in operating doctrine, existing procedures, training and crewing competencies.
As an integral part of JFD's 3rd Generation system, the submarine rescue vehicles have been specifically designed to operate at the leading edge of capability whilst also being optimised to be easily transported by as many different aircraft types as possible. This greatly increases the number of available aircraft to transport the system, minimising the time required for mobilisation.
The JFD team has already begun conducting in-depth training with local teams of engineers to operate and maintain the systems, employing the knowledge it has gained through years of operating world-class submarine rescue services with navies across the world and creating an indigenous expert submarine rescue capability.
JFD provides fast, safe and reliable subsea rescue services, solutions products, engineering services and training to 80 countries and 33 of the world's navies including the Royal Navy, Australian, Singapore, and Korean Navies, as well as providing the NATO Submarine Rescue System.