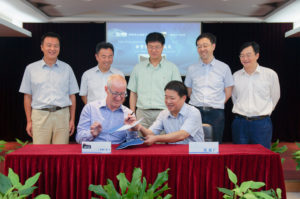 JFD strengthens presence in China with joint venture with Wuhu Diving Equipment Factory
Access to more economic resources in China through this partnership
JFD, the world-leading subsea operations and manufacturing company and a part of James Fisher and Sons plc, has expanded into the Chinese market through the signing of a joint venture with Wuhu Diving Equipment Factory (http://chinadiving.cn).
Wuhu Diving Equipment Factory is a subsidiary of Shanghai Salvage Company (SSC) and is the only factory in China specialising in the manufacture of heavy diving equipment.  The long term joint venture agreement brings the two companies together as Wuhu Divex Diving Systems Limited and is dedicated to the manufacture of advanced diving systems for the China market.
This joint venture allows JFD and Wuhu Diving Equipment Plant to grow together within the Chinese underwater arena. As both have extensive track records of designing, manufacturing and installing diving systems the partnership allows Wuhu Divex Diving Systems to provide a strengthened comprehensive offering.
JFD Managing Director Giovanni Corbetta states:
"We are thrilled to have partnered with a successful and experienced company such as Wuhu Diving Equipment Factory.  This partnership will allow access to greater resources in China providing not just an economic benefit to the company but a stronger portfolio and capability.  We are very much looking forward to operating as Wuhu Divex Diving Systems Limited within the Chinese sector."
JFD were recently awarded a multi-million pound contract to build a 500m saturation diving system in China.  The contract, valued in the region of £35m, is for the design and build of a 24-man saturation diving system capable of diving to depths of 500m.  Incorporating JFD's advanced state-of-the-art technology the 24-man system will allow the safe conduct of 500m diving, which is significantly beyond the depth rating of the majority of standard diving systems.