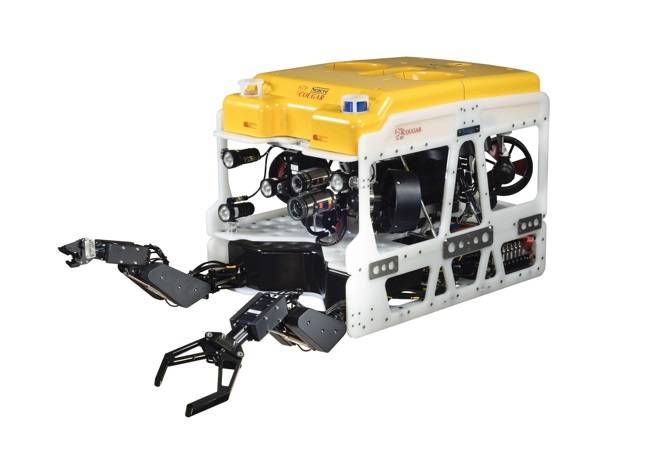 Shipbuilding and offshore services company Timsah's new multipurpose supply vessel, built for hire, is to be launched complete with a Saab Seaeye Cougar XTi underwater vehicle as a key onboard resource package.
The A1 class 2441 ton ship is rated for towing, firefighting and offshore support and includes a helicopter pad and accommodation for 60 crew.
Founded in 1961, Timsah operates globally and in particular throughout the Middle East.
The new vessel will continue to expand Timsah's activities and has been conceived to meet future demands, the company said.
The Cougar XTi was chosen for its superior technology and proven capability across the wide range of tasks likely to be encountered by hire operators, said Saab Seaeye's distributor, Zone Offshore, who will fully support the system.
With six powerful SM7 thrusters, an intelligent iCON control system and rated to 3,000 meters, the Cougar is a versatile, proven and reliable concept designed to undertake light work tasks together with observation and survey missions. It can carry a wide variety of sensors, ancillary equipment, tooling and a skid option – all in a small footprint that saves deck space.
Operators hiring the ship will find the Cougar package has the power to handle strong currents and the maneuverability to easily fly inside and around complex structures and undertake both precision and robust tasks as needed.
The diagnostic nature of the intuitive iCON control system includes smart fault diagnostics that eliminate the need for the pilot to interpret fault data and will automatically isolate a failed component to keep the vehicle working.
The new full Cougar XTi configuration package to be provided by Timsah for potential hirers includes a tether management system (TMS), an 'A' frame launch and recovery system (LARS) and a 16 foot long purpose-built safe area control cabin. Rated to 3,000 meters the Cougar provides maximum operating flexibility.
The Cougar comes complete with three cameras including a high definition CCD monochrome camera, a Kongsberg color zoom camera and a mini camera for the TMS. Also included is a Tritech Super SeaKing sonar, a five-function heavy-duty manipulator and a bare tool skid.