Valeport expands into optical sensors and debuts with Fluorometer launch.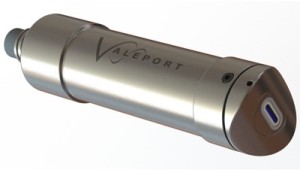 Valeport has released a new range of optical sensors which debuts with the launch of a Fluorometer for measurement of Chlorophyll, Rhodamine and Fluoresceine.

Valeport's new Hyperion Fluorometer delivers a high performance measurement of Chlorophyll A, Rhodamine and Fluorosceine in a compact and robust package ideal for ROV and AUV use.

Offered as standard in a 6000m depth rated, titanium housing the Hyperion Fluorometer has a wide range (9-30V DC) isolated power supply, data output up to 32Hz and RS 232 communications, which is ideal for rapid profiling.
Further package options will follow and will include versions for Crude oil, CDOM, Chlorophyll A (red excitation), Cyanobacteria (marine and freshwater), PTSA, optical brighteners, Turbidity and Optical backscatter.
Valeport's new Hyperion Fluorometer is now available to order for deliveries in November 2015.
For further details see www.valeport.co.uk or contact kedwards@valeport.co.uk or call +44 (0)1803 869292.