A crew of six British and Australian adventurers will re-enact Sir Ernest Shackleton's epic Antarctic small boat voyage.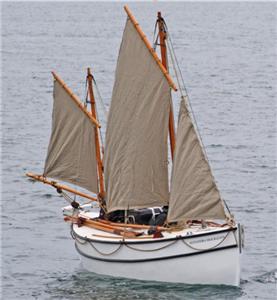 With only four months to go before the 'Shackleton Epic' adventure gets underway, a significant milestone has been reached with the sea trial and the expedition's naval element is eager to get going on the trip of a lifetime.
The 'Shackleton Epic' has been in development since 2008 when The Honourable Alexandra Shackleton, grand-daughter of Sir Ernest, had the idea of an expedition to honour one of the greatest leadership and survival stories of all time.
Now, a crew of six British and Australian adventurers will attempt to become the first to authentically re-enact Sir Ernest Shackleton's treacherous boat voyage from Elephant Island to South Georgia, followed by the difficult crossing of its mountainous interior.
Come January 2013, the team will be in Punta Arenas in Chile ahead of their attempt beginning around 17 January to emulate Shackleton's voyage across 800 nautical miles (1,480km) of the most challenging and treacherous seas on the planet.
The sailing lifeboat 'Alexandra Shackleton', an exact replica of Sir Ernest's lifeboat the James Caird, will be equipped with modern emergency equipment and radios as its only concession to the present day, although a support vessel, TS Pelican will be on hand in the Southern Ocean.
On arrival at South Georgia three of the team will traverse its mountainous interior to reach the former whaling station at Stromness.
The expedition will culminate in a pilgrimage to Shackleton's grave at Grytviken.