Divex and Analox Military Systems have joined forces to secure a deal to supply gas analysis equipment to the Swedish Armed Forces.
Divex has been awarded a contract from the Swedish Ministry of Defence Materiel Administration to supply the Swedish Armed Forces with the latest Saturation Diving Analyser (SDA) system produced by Analox Military Systems (AMS). The 11 units delivered will be fitted to the Swedish Armed Forces' Recompression Chambers. The SDA system allows the flexibility to integrate several different types of analysers within a single rack. The Swedish requirement was to have oxygen (O2) and carbon dioxide (CO2) analysers embedded within the SDA rack.
Bill Elrick, Divex Defence In Service Support Manager, said "The Divex Defence department is dedicated to meeting the Defence industry requirements for diving equipment. This is a good example of Divex and AMS, the subcontractor on this occasion, striving to produce state-of-the-art equipment along with spares and bespoke documentation for the Swedish Defence Materiel Administration."
Vicky Brown, Sales and Marketing Director for Analox Military Systems, added: "We were delighted to work with Divex to secure the contract. They, like us, are committed to meeting the needs of Defence industry clients around the world. The SDA series is a newly launched analysis system incorporating the latest technology. The modular build allows our customers a high level of flexibility when choosing monitoring equipment for dive chambers."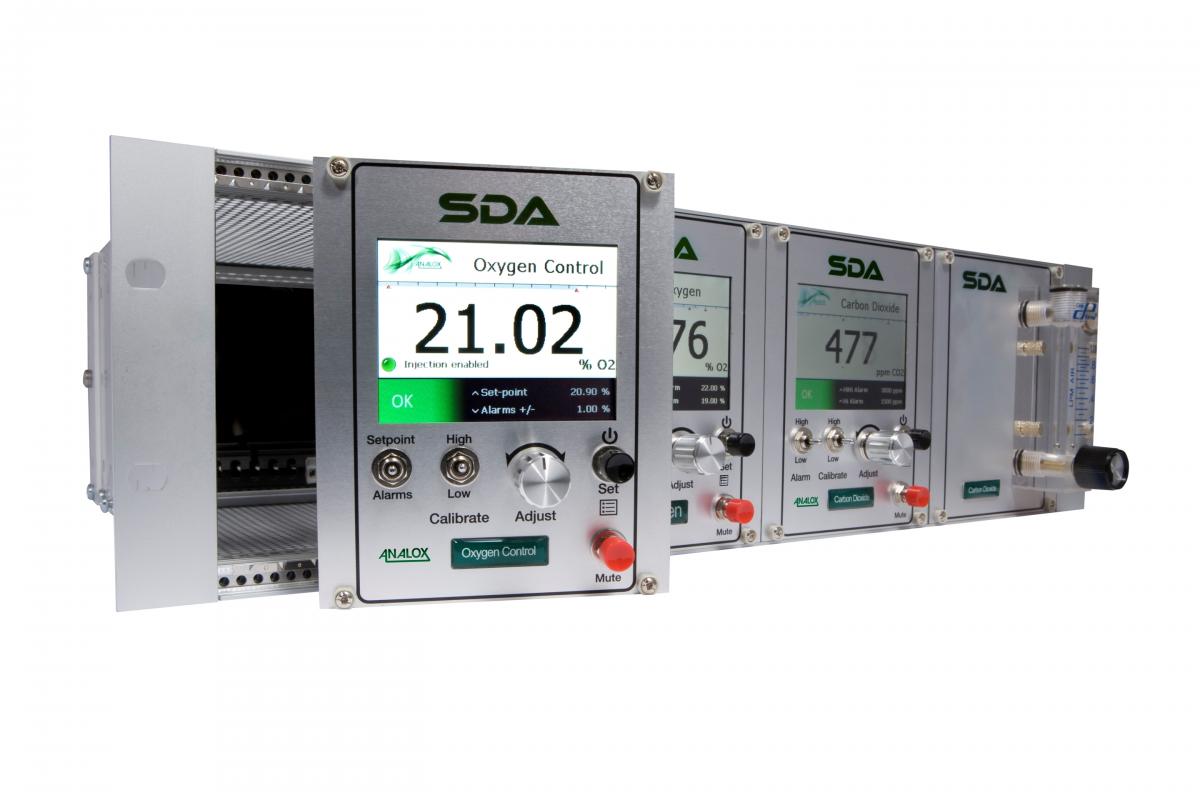 Analox's SDA series

Aberdeen-based Divex is the world-leading supplier of equipment and technology for commercial and defence diving. Its ability to deliver capability as well as equipment for its clients has enabled Divex to win contracts from many defence organisations around the world. AMS's products have been designed to protect or sustain life across all military theatres; land, sea and air. The two firms have worked closely for a number of years, with Divex distributing products by AMS and sister company Analox Sensor Technology around the world.
The SDA series was launched by Analox Military Systems in February 2011. It incorporates the latest digital technology, designed to continuously monitor the atmosphere for those operating in hyperbaric conditions. The SDA series incorporates interchangeable sensors and software, and can be easily configured to meet the user's analysis needs for a number of gases as well as pressure, humidity and temperature.
Analox Military Systems is a division of Analox Group which is based in Stokesley, North Yorkshire. Analox specialises in the design and manufacture of gas analysers for military and commercial use.